Genre: Drama, Fantasy, Slice of Life
---
It has been approximately 1 year ever since the release of Violet Evergarden. Though I have only recently finished the show few months back, I have always wanted to share my thoughts and reviews on it ever since.
As one of the most anticipated anime of winter 2018, due to its awards-winning light novel, the anime reached unexpected heights and furthermore exceeded my expectation. Evidently, Violet Evergarden is yet another masterpiece of KyoAni, and similar to titles such as Koe no Katachi and Hibike Euphonium, truly allowed its viewers to 'feel' rather than simply 'see' the story.
The plot is set in the post-war era, where Violet is one of its survivor. Along with the help of her commander Claudia, Violet started working at the Auto Memory Doll to transcribe mails as requested by customers. Unfortunately, as an ex-soldier who orders were simply to kill, Violet was devoid of all human emotions. Though war has given her numerous invisible scars, the poor girl's only motivations and hopes were Lieutenant Gilbert final words: "I love you". Ultimately, at its core, Violet Evergarden is a beautiful story about finding and regaining ones humanity through past sufferings of war.
Now, I am usually not a fan of slice of life anime due to its usual lacking in plot development. However, Violet Evergarden is not your everyday masterpiece. Yes, apart from the initial plot buildups within the first 3 episodes, the series is still somewhat episodic; where each episodes contains different sets of characters and context. However, describing Violet Evergarden as 'episodic' would be a mistake. With each passing episodes, I felt as though I, along with Violet, learnt something new about human emotions.
Violet Evergarden selling point was the transformation its characters went through, especially Violet herself. With each passing episode, she was exposed to a new fragment of human emotions, just like completing a jigsaw puzzle. Her transformation is so subtle, yet so unconsciously noticeable that it compelled me to binged the entire show not knowing where it will take me; but I was certain that it would completely wreck me internally.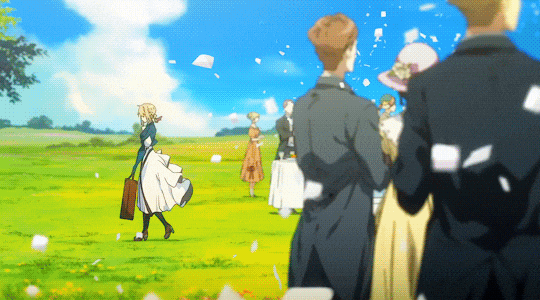 Anime is a medium to express a certain message, and within that medium comes the art. Although I do feel that the overall animation of the show is chunky at times, (I know many of you out there might disagree with me), there really is no debate about the Art.
The use of detailed lighting and vivid coloring is just abnormally out of this world. The lighting seriously felt like something out of a modern 3D graphic video game, and when needed, really highlights and reinforces many of the emotions that Violet herself experienced. This might be why animations felt somewhat chunky, as perhaps there were too many objects and particles to visually render, but who am I to comment on the show's technical aspects.
The effects of a vibrant coloring schemes in this show seemingly has its symbolic meanings. The abrupt changes in lighting contrasts and coloring signifies Violet growth in learning of a new emotional fragment, showcasing both sadness and joy both for Violet and the viewers. These scenes never fail to get me; as I always get goosebumps and tear up in the end.
The OP, Sincerely, and the ED, Michishirube, should also deserve to be talked about. For those who watched the anime, I feel most of us can agree that Sincerely fits with the general theme and chord progressions of the anime's soundtrack in addition to Violet Evergarden message as a whole. As a song, I quite liked it and looped it quite a bit.
Michishirube, however, though the song is musically strong, at times I felt that Chihara's voice in this specific song is frankly… annoying! Don't get me wrong, Chihara is one of my favorite voice actors, starred in shows like Date A Live as Miku, and Ga-Rei: Zero as Kagura. From what I know, she can sing in a CLEAR VOICE. If you don't believe me, search up Paradise Lost on YouTube!
Though many of you might disagree, I felt Chihara's voice failed to hit the mark on Violet Evergarden ending. Maybe it was the producer's suggestion, might even be the director himself. Either way, Michishirube was the least enjoyable experience for me in the entire show, but at least the soundtrack made up for it.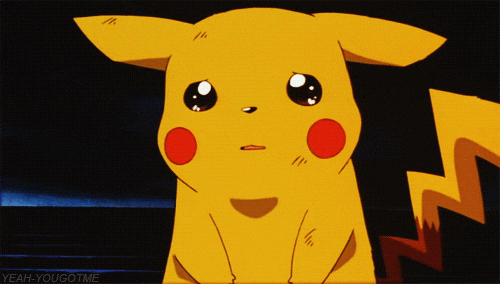 I usually don't give too much credits for the soundtrack of anime show, asides from the OP and ED. However, the soundtrack for Violet Evergarden is simply remarkable and truly adds a finishing touch to this amazing series. Speaking as an avid music listener and performer, the ambiance of the string ensembles as well as its powerful bass represent many of the symbolism presented within the series. I especially loved Rust and Across the Violet Sky; as I felt they reinforces hope and discovery the best.
You are burning, we are all burning – Claudia
The feels and emotions in these songs are truly powerful, and without such beautiful soundtrack, I wouldn't have bawled my eyes out.
---
Conclusion:
Violet Evergarden was a fresh breath of air. It feels so different from common slice of life anime. The struggles and pain of a post-war suffering was so well depicted and defined that I felt sucked into a world of feels never have I experienced before. Could you say I enjoyed this show? Hell yes!! (way too much).
If you are considering this series, or have previously dropped it because of its slow pacing within the first 3-4 episodes, I say go back and give Violet Evergarden a few extra episodes. You won't regret it!!