Are you a poker-faced anime fan who is looking for something emotional? Maybe you are easily moved and is looking for an anime that will easily make you cry? Well, you are in the perfect place. Below here is the ultimate list of the emotional and tear-jerking anime that will potentially make you bawl your eyes out!
---
---
---
5 Centimeters per Second
5 Centimeters Per Second follows the story of two close friends and potential lovers, Akari and Takaki. Due to family circumstances, the two are soon separated. Yet, despite the separation, the two continued to keep in touch with each other via mail. As they both mature, however, they furthermore become distant from one another.
Throughout 5 Centimeters Per Second's beautiful and emotional story, the buildup to the climax is definitely a surprise. Be prepared for a tear-jerking experience as the anime truly allows the viewers to 'feel' its characters rather than merely 'watching'.
---
---
---
Assassination Classroom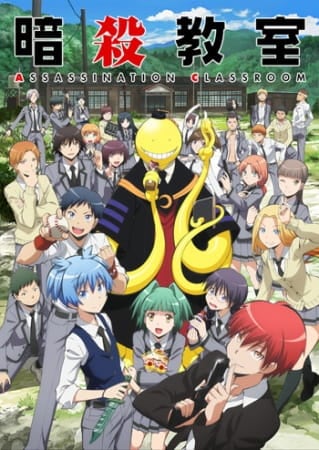 When an alien destroyed the Moon, the students at 3-E of Kunugigaoka Middle School, also known as the misfits, was confronted with a task to assassinate the mysterious creature who named himself Koro-sensei. Though with no seemingly chance of success, the students quickly realize that Koro-sensei was the best teacher they ever have.
Throughout the anime, the viewers are able to experience the love and care that Koro-sensei has given them. What does it mean to be a true teacher? Why does Koro-sensei spend so much time nurturing these misfits? Assassination Classroom provides its viewers with an emotional journey about friendships, as well as showcasing a truly beautiful and unique relationship between Koro-sensei and his students.
---
---
---
Plastic Memories
Plastic Memories take on a romantic story between Tsukasa and a 'Giftia', or android, named Isla. These androids specifically only have approximately nine hours until they malfunctions and become hostile to humans. This usually is not a problem for most. For Tsukasa, however, he quickly realizes that he is falling in love with Isla. Throughout Plastic Memories, the viewers will experience a sweet, yet emotional and memorably sad story about true love.
---
---
---
Violet Evergarden talks about a girl and her journey of PTSD recovery. After a gruesome war, Violet, a surviving ex-soldier finds herself working for the Auto Memories Doll. Though her job is to transcribe customers emotions into mail messages, Violet has yet to understand the human's heart. She must learn to truly grasp the hidden meaning behind each word to ultimately decode her Lieutenant's final' messages.
The anime teaches viewers the ultimate struggles of war, and along with Violet, allows us to see the fragile yet beautiful hearts of people. As the young girl learns of newer human emotions, whether it be sadness, gratitude, hope, we will encounter many truly tear-jerking moments that will teach us a thing or two about emotions itself.
---
---
---
Anohana
Anohana revolves around a group of childhood friends and their painful past. During one hot summer day, "Menma", one of Jinta's childhood friend, suddenly shows up next to him. Thinking that he is merely hallucinating due to the summer heat, Jinta merely ignores her.
Later on, viewers quickly learned that Menma actually past away in an accident years ago. The lives of Jinta and his friends are suddenly turned upside down, and the questions remain for Jinta to solve: what does Menma's ghost' wants from him?
Anohana teaches us what it truly means to part with someone or something important. If you are up for an emotional roller coaster and do not mind crying non-stop, definitely consider watching this anime.
---
---
---
Clannad: After Story
Clannad: After Story is a continuation of its first season prequel: Clannad. The series depicted the after-events of Tomoya and Nagisa after their high school graduation. As their relationship deepens, the couple finds themselves going through many challenges and hardships that must be overcome.
The anime tells viewers to appreciate the little things that they currently possess. Along with the protagonists, the viewers experience the true meaning of growing up, creating a family, and becoming an adult. Through a beautiful story, Clannad: After Story presents moments where you will be unable to stop your tears.
---
---
---
Conclusion:
So there you have it, the ultimate lists of anime that will make you cry and tear up. Though many of them contain a different story and settings. at the end of the day, be ready for a tear-jerking watch that will make you bawl your eyes out unbearably.